Kaltura – Kaltura Capture Desktop Recorder
Use Kaltura Capture to easily record yourself and/or your screens to create recordings that can seamlessly upload to your personal media repository in Canvas. Recordings that feature multiple sources (webcam and screen, for instance) will be visible in Canvas through Kaltura's interactive rich media player allowing students to choose how they wish view the recording: Picture-in-picture, side-by-side, or only focus on one source.
To get started, be sure you meet the minimum system requirements and proceed to access My Media:
Installation instructions for first use:
Log in to canvas.unm.edu.
In the Global Navigation, Click Account > My Media.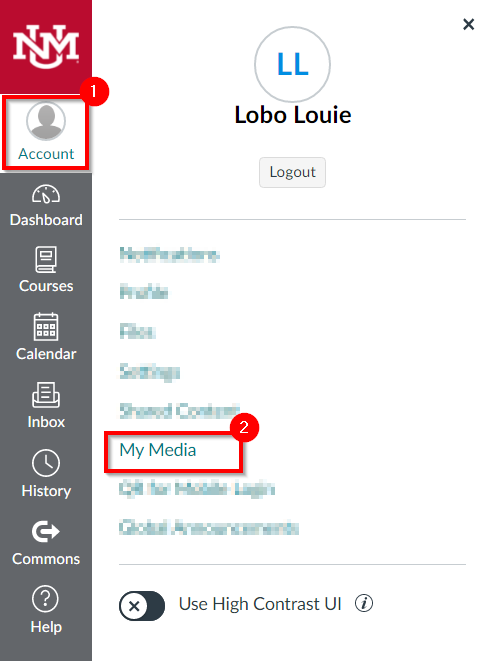 Note: If you are accessing Kaltura for the first time inside of Canvas, you may be asked to Authorize the Kaltura Tools in your account.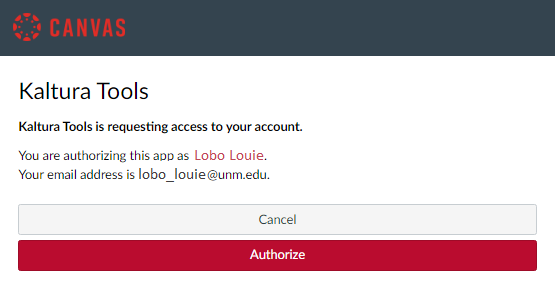 Your My Media repository will load.
Click Add New > Kaltura Capture.

Select the appropriate download for your computer.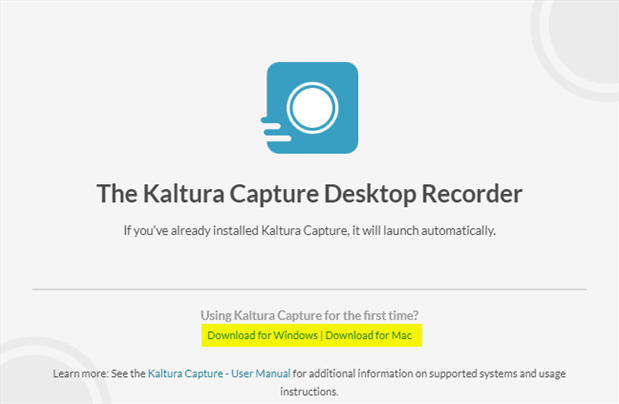 Click Run to activate the installation file and install Kaltura Capture.
Once the installation finishes, return to your browser and click the back button to return to My Media.
Once again, click Add New > Kaltura Capture.

Your browser should prompt you to open Kaltura Capture.
Note: You may want to select "Always allow kaf.unm.edu to open links of this type in the associated app" to avoid being prompted each time you launch Kaltura Capture.

Important Note for MacOS users: Certain versions of MacOS may block the Kaltura Capture application from accessing screen recording and your microphone. See https://knowledge.kaltura.com/help/how-to-enable-security-setting-on-mac-osx for details on addressing this.


Creating a Kaltura Capture recording:
After installing Kaltura Capture, you can choose to launch the application through My Media > Add New > Kaltura Capture or by finding the application locally on your computer.
With Kaltura Capture you can mix and match combinations of cameras, screens and microphone. Use the icons to toggle which of these sources you want to include in your recording, and the dropdown menus to select different devices. If the source is blue and not grayed out, it will be included in your recording.


For more in-depth instructions on recording features, see https://knowledge.kaltura.com/help/kaltura-capture-recording-options.
Once you have finished recording and are ready to upload it, see https://knowledge.kaltura.com/help/kaltura-capture---completing-and-uploading-your-recording.
System Requirements
Kaltura Playback

Download Speed (Mbps)

Delivery

Resolution (Quality)

0.3

  Small

640x360

1

  Medium

960x540

1.5

  HD

1280x720

2+

  FHD

1920x1080

 

 

 

HW/SW

Requirement

  Browser

Chrome 94+

 

Firefox 91+

 

Safari 15+

 

Edge 96+

Mobile

 

 

  iOS

Safari 14+

 

  Android 7.0 and above

Chrome 87+

 
Kaltura Capture

HW/SW

Requirement

  Operating System

Windows 10 - 11 (64 bit)

 

macOS 10.14 - 11

  Memory

4GB RAM

  Storage

1GB min available
| | |
| --- | --- |
|   Processor | Minimum of Intel i5 or AMD A10 (min 4 cores) or Apple M1 |
|   Screen Resolution | Minimal supported screen resolution is |
|   | 1024 X 768 (100% scale) |
|   Browser | Chrome 94+ |
|   | Firefox 91+ |
|   | Safari 15+ (macOS only) |
|   | Edge 96+ |
|   Internet Speed |   |
|   Download | NA |
|   Upload | > 1 Mbps |
Relevant Documentation (Instructors) 
Kaltura – Fix Imported Content from Blackboard Learn 
Kaltura – Access My Media 
Kaltura – Upload and Organize Media 
Kaltura – Edit Kaltura Videos 
Kaltura – Create Hotspots 
Kaltura – Chapters and Slides 
Kaltura – Kaltura Capture Desktop Recorder 
Kaltura – Express Capture Recorder 
Kaltura – Embed Video in Pages, Announcements, Assignments,
or Discussions 
Kaltura – Create a Video Assignment for Students 
Kaltura – Add Media Gallery to a Course 
Kaltura – Publish Videos to a Course Media Gallery 
Kaltura – Create or edit a Media Gallery Playlist 
Kaltura – Import a Media Gallery from Another Course 
Kaltura – Use Media Gallery for Student Projects 
Kaltura – Add Collaborators to your Video 
Kaltura – Download your Videos 
Kaltura – Add or Edit Captions on your Videos