Transition to New Quizzes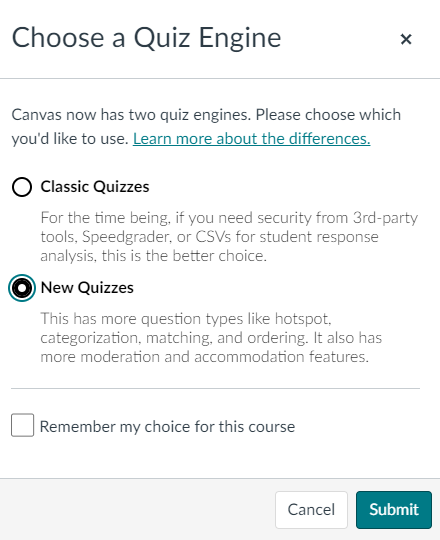 Canvas is in the process of implementing a new quiz tool, "New Quizzes." New Quizzes will eventually be replacing the older quiz tool, "Classic Quizzes." In our instance of Canvas, both quiz tools are currently enabled. When building a quiz in a course, you will have the option to choose between a Classic Quiz or a New Quiz. When using imported content from Learn, all Tests in Learn migrated over into Classic Quizzes only. Classic Quizzes have an outlined icon of a rocket ship
, whereas the icon for New Quizzes is a solid rocket ship

. 

Before deciding which Quiz tool to use, please know that Classic Quizzes will be demised June 2024. Canvas has planned some migration options for converting Classic to New Quizzes, some of which are still in development. If you'd like to avoid migrating later, you can create quizzes using the New Quiz option. However, there are some differences between Classic and New Quizzes (current state) that you should be aware of, which may impact your decision of which tool to use. The New Quiz tool is still in development, so some of that missing functionality will come in future updates to the New Quiz tool.
If you are interested in knowing the differences between Classic and New Quizzes, there is a Feature Comparison chart and the Product Roadmap. We highlighted just a handful of the differences below, but please review the Feature Comparison Chart for the complete list. 
Here are some limitations in New Quizzes for you to consider:
The new Rich Content Editor (RCE) is not available yet in New Quizzes, so you do not have an HTML editor, cannot Record Audio/Video, integrate a Kaltura video, and there is no Equation Editor for Formulas in New Quizzes. This feature is coming, but the date is to be determined.

 

The Survey option will not be developed for the New Quiz tool. 0 point quizzes are not allowed in Canvas. There are no plans to make this a feature of the New Quiz tool.

 

Users in the Designer role in Canvas cannot build New Quizzes. This feature is coming, but the date is to be determined.

 

No CSV download is available yet. This feature is coming, but the date is to be determined.

 
However, New Quizzes also has some new functionality that Classic Quizzes do not:
It allows instructors to provide extended time or other

accommodations

for a student that can be applied at once across all quizzes in a course.

 
If you rely on some features that the New Quiz does not yet have, you may want to use Classic Quizzes. In current state, you can migrate individual Classic Quizzes to New Quizzes. In the future, a bulk migration feature will be available as well as an option to choose which quiz tool to use when importing tests/quizzes from another course. 
Instructure has changed the timeline a couple times in the past, so we recommend checking the New Quiz Timeline periodically in case of any additional changes. The timeline also has more information about the changes coming to quizzes. There is also a User Group you can join and Release Notes you can subscribe to.