Section Groups
What is a section group?
In Canvas, two or more course sections can be merged under a single new course (parent course) to facilitate managing course content. Instructors typically use this option when they are teaching a course that is officially crosslisted in Banner under multiple subject codes or if they are teaching multiple sections of the same course they wish to combine. When you group sections, the students that were enrolled in the original sections (child sections) are placed in a single area called the "parent" course. Here is where you will build and manage content and monitor student activity for all your grouped sections.
Note for fully online courses at UNM: Grouping of online course sections with face-to-face sections is permitted, but online course content must be developed so that the portion of the curriculum for online students is not reliant on a livestream/recording of a classroom lecture or discussion.
Confidential student information in Canvas including student work, discussion posts, and grades are protected by the
Federal Education Rights and Privacy Act (FERPA) 
and should not be disclosed to individuals who do not have a legitimate reason to access that content. For more information on FERPA and Canvas, see the
Canvas Terms of Use
page.
How to request sections be grouped 
To group your sections, please submit the Section Group Request form. The request form must be completed even if your class is cross-listed in Banner.  
Important information about grouping: 
Always group sections at least a week prior to the start of classes to avoid any issues, such as the loss of student work and delays with grouping your sections.

 

 

Please make sure your courses are

web-enhanced

or scheduled as online or hybrid before filling out the form. 

 

Group courses before adding content.

Do not add content to one of the sections before grouping as you will no longer have access to the original sections once they are grouped.

If you need to start developing your content before your courses are grouped, you can request a

Temp Course,

which you can later copy into your grouped parent course.

 

The title for teachers, course assistants, and students will be the title you choose on the Section Group Request form, so make sure you pick a title that encompasses all the sections and will make sense to your students in each section.

 

Sections that are cancelled and rescheduled will not get automatically re-added to the section group. If sections that are part of your section group are cancelled and rescheduled, you will need to contact

UNM Canvas Support

to get the rescheduled section added to the group.

 

Sections can only be in one section group parent at a time.

 
Due to the high volume of requests near the start of each term, and the critical importance of grouping prior to the class opening to students, please plan to submit your request at least a week before your class start date to allow time for processing.  The request can take 1 to 5 business days to process. Requests will be prioritized by the section group's start date, so some requests for later-starting classes may experience a longer than usual waiting time. You will receive a confirmation message from UNM Canvas Support once your request has been completed.  
What students will see
Students will see the section group parent name that you chose on the request form, so make sure you selected a name that will make sense to the students in all the sections. You may also want to consider sending them a welcome email with the new course name. Students will not be able to access your course until the start date has passed and you have published the course. If the start date has not passed, it will show up under Future Enrollments and be inaccessible to students whether or not the course is published.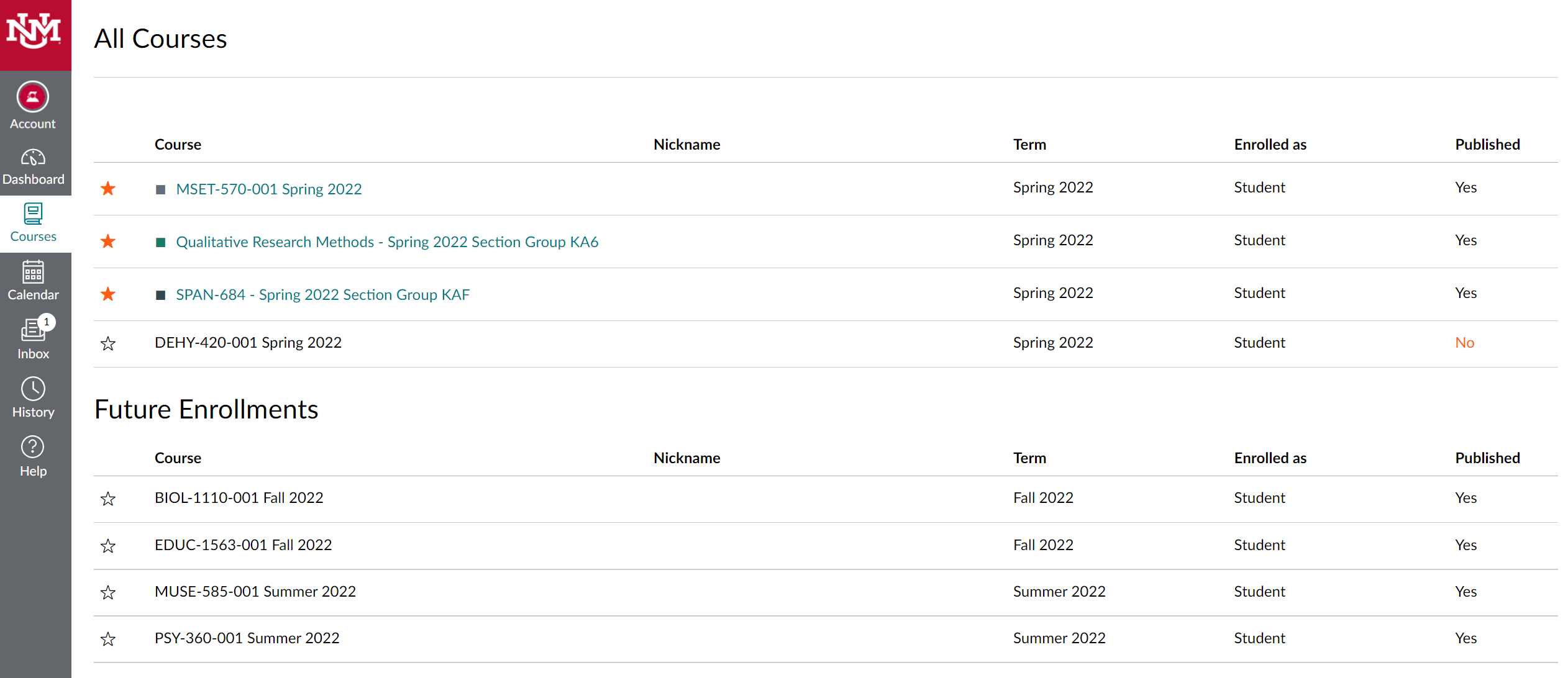 How to access your grouped course
Once your course is grouped, the child courses will no longer appear, and you will only see the parent course on your Dashboard or All Courses page.  

Dashboard View
(If you do not see it here, check Courses > All Courses)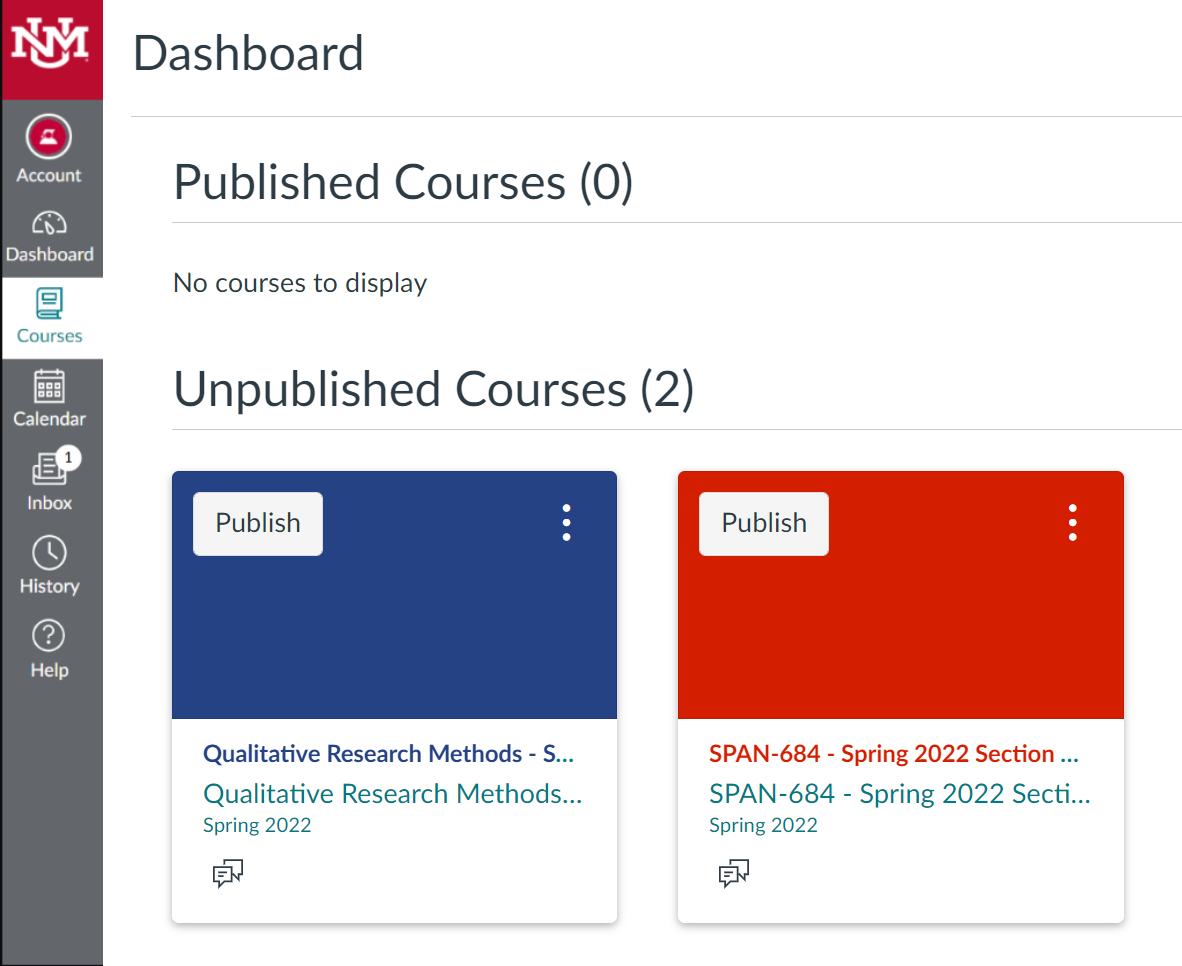 Courses > All Courses View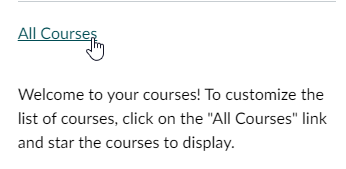 Copying/importing content 
Unlike with Learn, you will not be able to copy content from one of the child sections into a parent course in Canvas, as you will lose access to the child sections once they are grouped. If you want to start developing content before your sections are grouped, we recommend that you request a Temp Course to develop in and later copy that Temp course into your grouped parent course.  
 If you had built content in a section (child) already before seeing our warning, you should export the content from there before submitting the section group request form. Then you can import it into the new grouped course (parent) after they are grouped. 
Once your content is ready in the parent course, don't forget to publish the course, so students can access it. Students can only access the course once the start date for their particular section has passed and the course is published. 
Managing students from different sections
There are a few helpful places to view section enrollments:  
Major differences between Learn and Canvas section groups
If you are used to how section groups work in Learn, we wanted to point out some differences, including some gains with how they work in Canvas. 
In Canvas, once sections are grouped, you will only have access to the parent course. You will no longer have access to the child sections unlike in Learn. Any content you put in the child or any work students have already started doing before grouping will not be accessible to you or the students.

 

In Canvas, students see the parent course name instead of the name of the specific course and section they registered for that they saw in Learn.

 

The dates the students can access the course depend on the individual section dates, not the dates of the parent course.

 

Unlike Learn where you had to manually make groups to do this, in Canvas you can 

assign work (e.g., assignments, discussions, and quizzes) by section

. When making one of these items, you can use the Assign option to select a specific section. You can also use this to give various sections different availability and due dates.

 

You can

filter

the Canvas Gradebook by a child section without having to make something like the Smart Views you had to build in Learn.