Web-Enhance Your Course
Courses that are scheduled with an instructional method of fully Online, Hybrid, or Accelerated/Managed Online Programs do not need to be web-enhanced - these courses automatically have a web component via the scheduling process. All other courses do need to be web-enhanced per the instructions below.
UNM Canvas is integrated with the UNM Banner Student Information System. If you would like to have your face-to-face course in Canvas, you will need to add a web component to the course in Banner/LoboWeb, which will then trigger the process that creates a course in Canvas. The instructions on this page detail the process for Adding a Web Component to your course, or web-enhancing your course through Banner Self-Service (LoboWeb). 
1. Login to your myUNM account at https://my.unm.edu. 
2. Click the Faculty Life tab.
3. Click Enter LoboWeb.
4. You should be on the Faculty & Advisors tab. Scroll down the menu of options. Under Class Section Functions, click Add Web Component to Class.

5. Select the term and click Submit.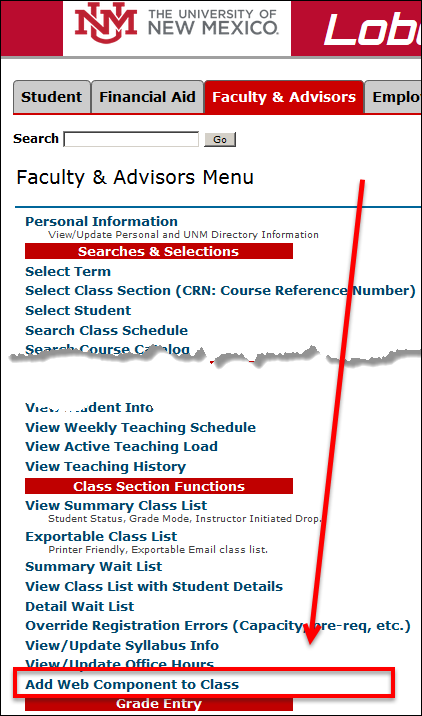 6. Review the information on the page. At the bottom, you'll see your courses listed. Select the section(s) you'd like to web-enhance (i.e., have a UNM Canvas web component for) and click the Submit button.
7. Once submitted, the check box for the selected section(s) will disappear, and the words "Web Enhanced" will be included in the Instructional Method column.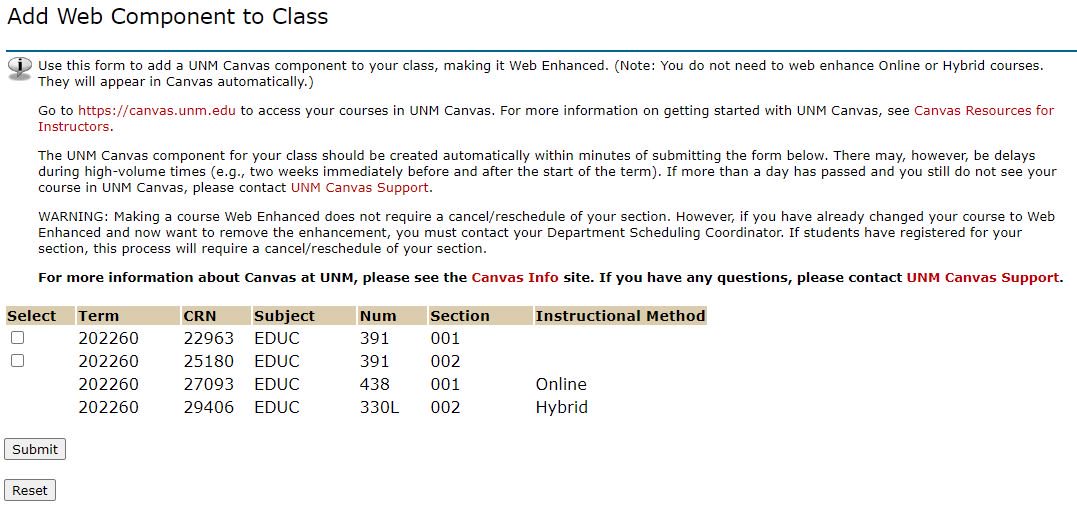 The web component for your class should be created automatically within minutes. There may, however, be delays during high-volume times (e.g., two weeks immediately before and after the start of the term). If more than a day has passed and you still do not see your section in UNM Canvas, contact UNM Canvas Support for assistance.
To access your new sections in UNM Canvas, go to https://canvas.unm.edu . For more information on getting started in Canvas, visit our Instructor Resources page.
Students will have access when the course is scheduled to begin. The course must also be published in Canvas for students to access it.
If you plan to group your sections in UNM Canvas (combine multiple sections into one course), it is important to submit your request at least a week before the class start date to allow time for processing. More information about section groups and the Section Group Request Form is available on our
Section Groups
page.