Meet UNM Canvas
Now it is time to get to know your Canvas Learning Management System (LMS)

You can always access UNM Canvas by visiting https://canvas.unm.edu/. For help and additional information, see How to Log In. We suggest that you bookmark your UNM Canvas webpage so that you can easily access your online courses at any point.
Please be sure to review any text, video tutorials, and/or attachments included in the pages that follow. They will help you learn how to access and use the tools in Canvas. Remember, not all courses use every tool, so don't worry if you don't see them.
Important note: UNM Canvas has been customized for our institution. Some tools or features discussed in Canvas Community documentation (e.g., integrations with Web Services or Google) are not available in our instance. Also, the items available in the Course Menu will vary from one class to another. The Canvas help documents may tell you to look for a particular tool in the Course Menu when everything you need is listed and linked in Modules. When in doubt, ask your instructor!.
We will cover:
Global Navigation, Dashboard and Course Menus
Canvas Inbox (Conversations) and Announcements
Assignments
Discussions
Video Submissions (Kaltura Capture and My Media)
Zoom Web Conferencing
Tests
Viewing your Grades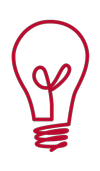 Along the way, look for the red light bulb icon to see "PRO TIPS"!