Redirect Tool
Canvas does not support the option to include additional links in a course's navigation menu. To supplement this, there is an app called "Redirect" that can be installed via the Apps page in your course. This app will allow you to create new links in the course navigation menu. Please see the instructions below on how to install and use Redirect.
NOTE: The recommendation in place is to use this tool sparingly, as the best practice for course design is to keep the Course Menu as simple as possible.
Open your course and click on

 

Settings

 

in the

 

Course Navigation Menu

.

 

Click the Apps tab on the

 

Course Details

 page.

 
Click on the Redirect Logo and select the Add App option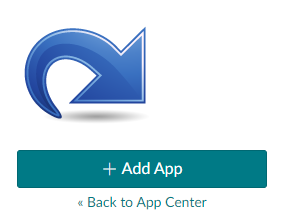 On the Add App prompt, enter a name that you would your link to appear as in the Course Navigation Menu and paste the URL that you would like the link to redirect to. Finally, check the "Course Navigation" box and click Add App. Note: The Account Navigation and User Navigation option will not work at the Teacher level in a course. This is more so for administrators.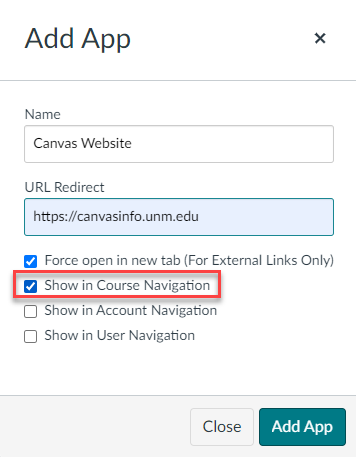 The new link should now appear in the Course Navigation menu for access. Note: Steps 3-5 will need to be repeated for every new link needed in the Course Navigation menu.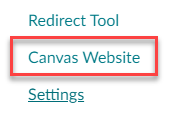 Hiding or Removing Redirect Links:
Instructors are unable to fully delete or edit any Redirect links once they have been made. It is possible, however, to hide the links so that they do not appear in the Course Navigation for students.
In your course, click on Settings.
Click on Navigation tab near the top of the page.
Find the Redirect links that you would like to hide and drag and drop them into the section below labeled Drag items here to hide them from students.
Click Save.
If you would like a Redirect link to be removed entirely from the instructor's view (due to a mistake, or preference), please contact UNM Canvas Support and let us know which Redirect link(s) you would like to be deleted.