Kaltura – Fix Imported Content from Blackboard Learn
All Kaltura Media located in your My Media repository will still be available to you through Canvas. However, some additional steps will have to be taken to make sure your media appears correctly in your Canvas course following a Course Migration. 

Current Known Migration/Import Issues
Media Gallery content does not migrate over.

Content contained in a Media Gallery in Learn will not Migrate over to Canvas. The videos will initially need to be re-published in the Media Gallery in Canvas. The Media Gallery can then be copied to any future offerings in Canvas by using the Import Media Gallery option.



Media Mashup links do not migrate over to Canvas.

 Media that was added to a course in UNM Learn as a Media Mashup in a Content Area (via the Build Content tab) will not migrate over to Canvas.



Rich Content Editor embedded videos migrate as broken links

. If the Media was added to the course in UNM Learn using the Rich Content Editor, the video will Migrate with a linking error. See below: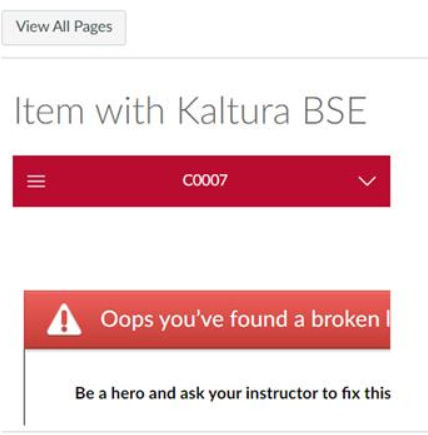 The current recommendation in place for Media Mashups is to relink embedded Kaltura Content from Learn in Canvas. Please see the section below for more information.
Relink Embedded Kaltura Content from Learn in Canvas
The Kaltura player inside of UNM Learn now includes buttons to assist with locating videos in your UNM Learn courses and relinking them in your UNM Canvas courses. At the end of each Kaltura video embedded in a UNM Learn course you will be presented with two buttons: Instructions (a link to this page) and View in My Media. The latter will open your My Media repository in a new tab with the desired video highlighted. To get started, do the following:
1. In a browser session, open the UNM Learn course that contains the video.
2. In a new tab, open the UNM Canvas course you wish to add the video to.
3. Back in your UNM Learn tab, find the content item that contains the video you wish to relink.



4. Play the video to ensure there are no problems with the content and no edits are needed.
5. Once the video is over, click the View in My Media button.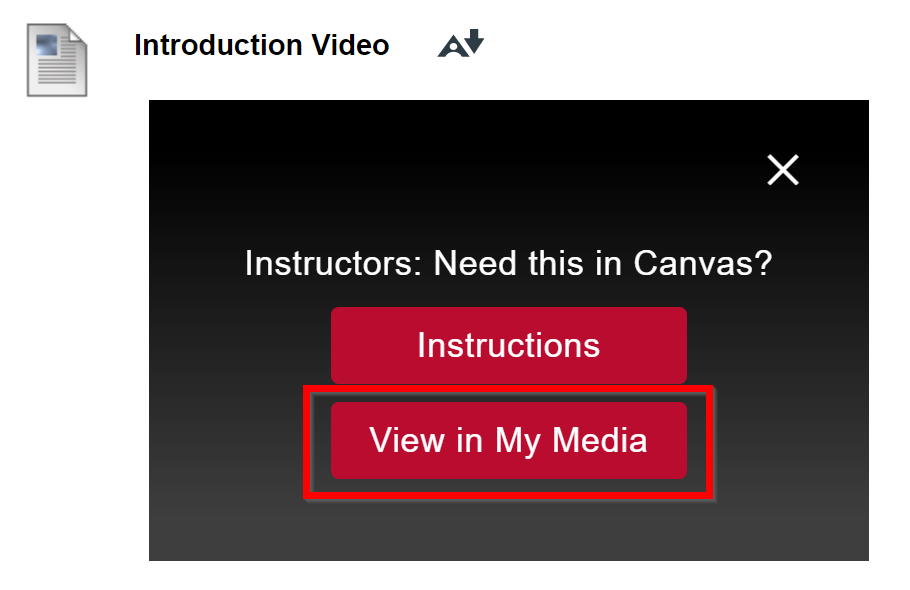 Your My Media repository will open in a new tab with the video highlighted in the search field.
NOTE: If you are presented with "No matching results found," you may not have publishing rights to the content. Fill out the Kaltura Publishing Rights Request form to request publishing rights. By requesting publishing rights to instructional Kaltura content, you assert you hold a role of Instructor, Teaching Assistant, or Course Builder in the requested course where the content is published.
6. Copy the Entry ID from the search field.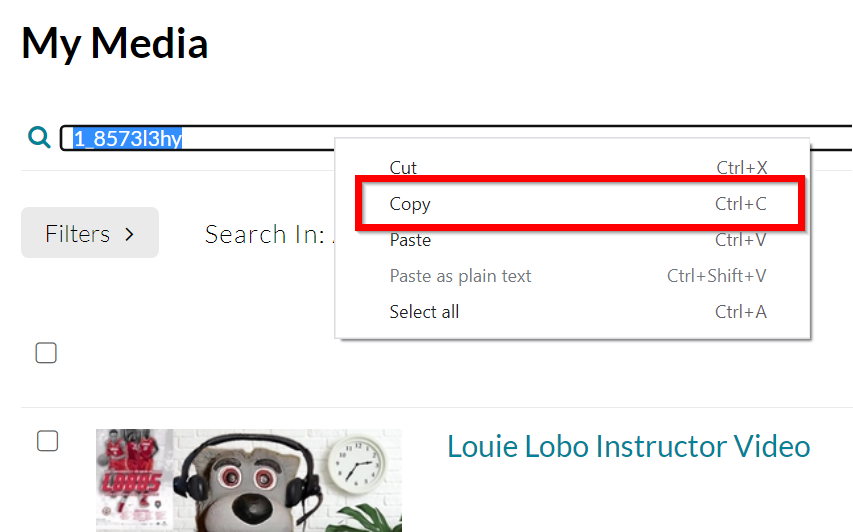 7. In your Canvas tab, go to or create the item you wish to embed the video in.

8. Click Embed Kaltura Media from the Rich Content Editor's (RCE) toolbar.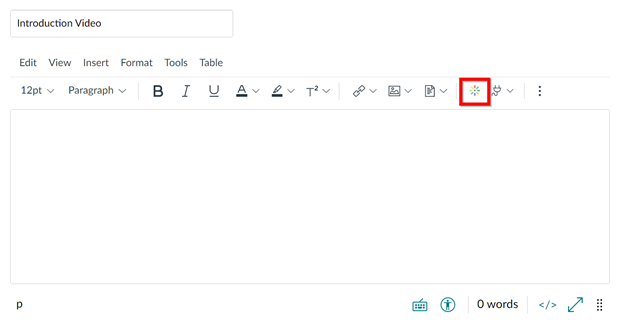 9. Paste the Entry ID from step 6 into the search field.
10. Click Embed.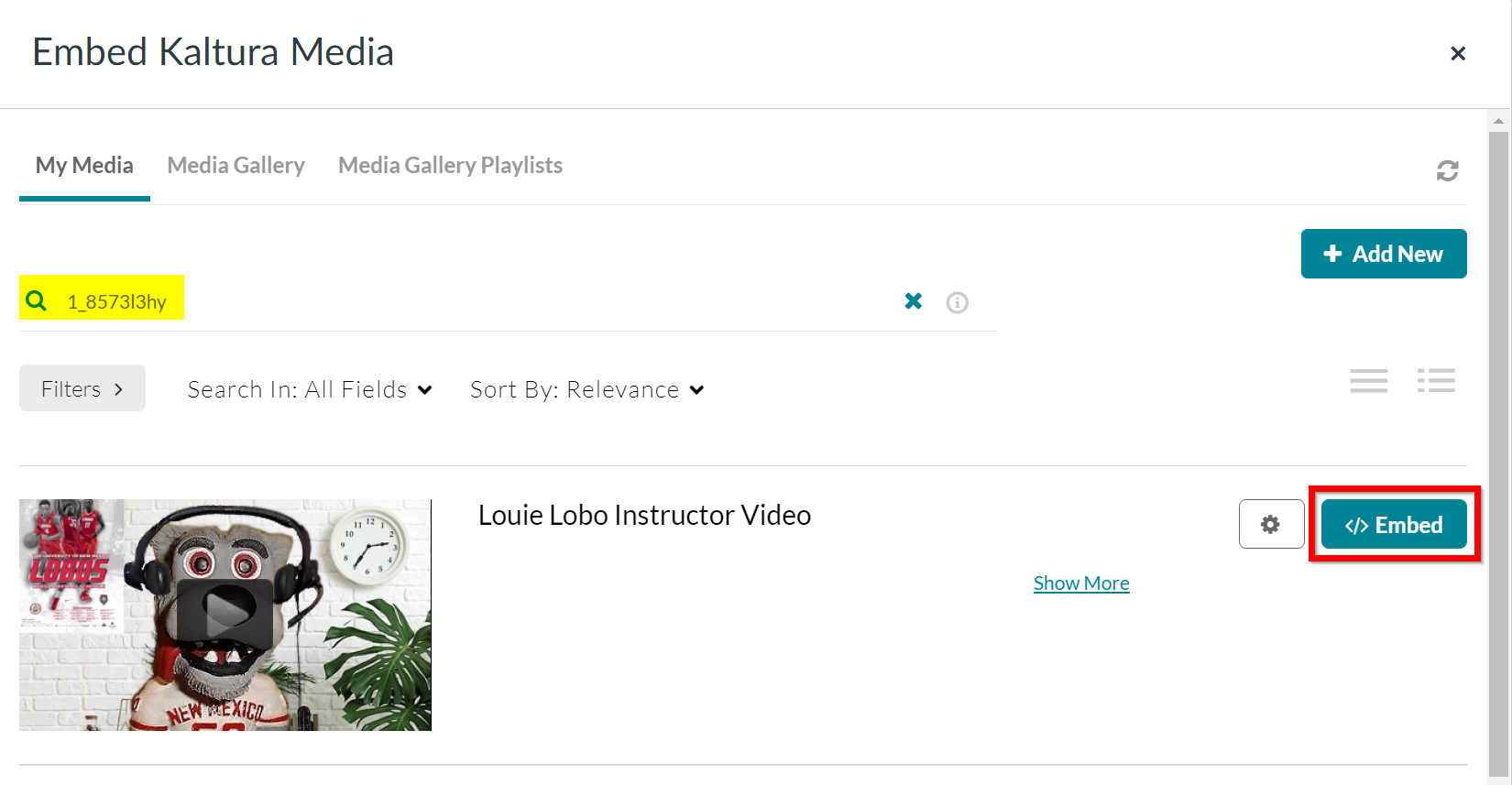 Your selected video should be added to the content editor available for preview. Now you can add any supporting text or additional information.
11. Click Save or Save & Publish.

Finding My Media content published in Learn from Canvas
You can check to see where a video in your My Media library has been published in Learn courses. This is useful if you would like to reference the location of your My Media content, and if you would like to publish it to a Canvas course Media Gallery using that information.
1. Click on Account and click on My Media
2. Once in My Media, you can click on the Published badge to display a menu that shows your where that media is published.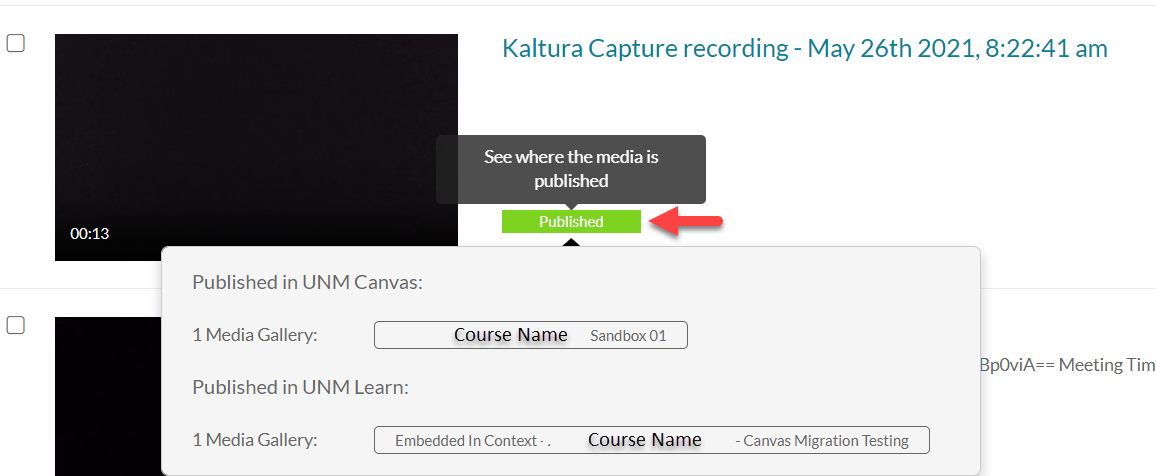 3. You can choose to publish the videos to your course by clicking on the checkboxes next to your videos (up to 30 at a time). From there, you can scroll up to the top of the page and select the Actions option and choose Publish. 


NOTE: Be sure to collapse the "Published in UNM Canvas" menus by clicking on the Publish badge once again. Some formatting issues can occur on the next page if this is not done.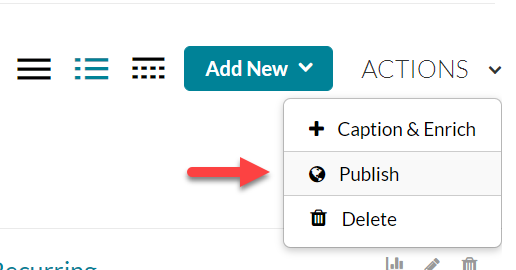 4. Finally, select the courses where you would like to publish the video under Publish in Gallery and click Save.