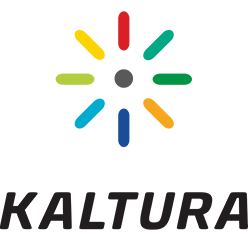 Kaltura is a platform that offers tools to view, create, upload, edit, organize, and share your video and audio files. With the integration of Kaltura video tools and UNM Canvas, you can share media in any of your courses on pages, announcements, assignments, or discussions or through a dedicated course media repository. For minimum system requirements for using Kaltura or it's stand-alone recorder, Kaltura Capture, please see Kaltura Capture Desktop Recorder.
Create and Upload
Easy Video Uploading – Upload any type of media (video, audio, images) through a simple interface.

Kaltura Capture Recordings – Easily record yourself and/or your screens to create recordings that can seamlessly upload to your personal media repository in Canvas.

Express Capture Recordings – Record a short video with your webcam and audio devices directly from your browser without the need to install any software.

YouTube – Add YouTube videos to your personal media repository to share and organize them along with your other media files.
Edit and Organize
Clipping video – Easily create shorter segments from a longer video without changing the original and without needing additional software.
Trimming video – Remove the beginning, end, or anything in the middle from a video all from your browser.
Hotspots – Create clickable points in your video to lead students to other segments or other resource through weblinks.
Metadata – Add a title, description, or searchable tags to videos to better find and organize them.
Share
Embed media – Add your video to course pages, announcements, assignments, or discussions with your students using Canvas' Rich Content Editor.
Media Gallery – Add videos individually or in bulk to a dedicated media repository viewable by all students in your course.
Collaborators – Add collaborators (TA's or other instructors) that can help you edit, publish, or review your videos.
Relevant Documentation (Students) 
Kaltura – Access My Media 
Kaltura – Upload Media 
Kaltura – Kaltura Capture Desktop Recorder 
Kaltura – Express Capture Recorder 
Kaltura – Embed Video in Discussions 
Kaltura – Submit a Video Assignment 
Kaltura – Use Media Gallery for Student Projects