Start a Zoom meeting from UNM Canvas
If you have not already made the Zoom Meeting tool visible inside of your Canvas course, please see Make the Zoom Meeting Tool Visible for Your Canvas Course. If you have not already downloaded and installed the Zoom Meeting Software, please see Downloading and Installing Zoom. 
Before starting your meeting, be sure you have closed out of any applications you will not be sharing, especially those that make large demands on system resources.
Click the Zoom Meetings link in your course navigation.
Find the meeting in the Upcoming Meetings tab, and click Start.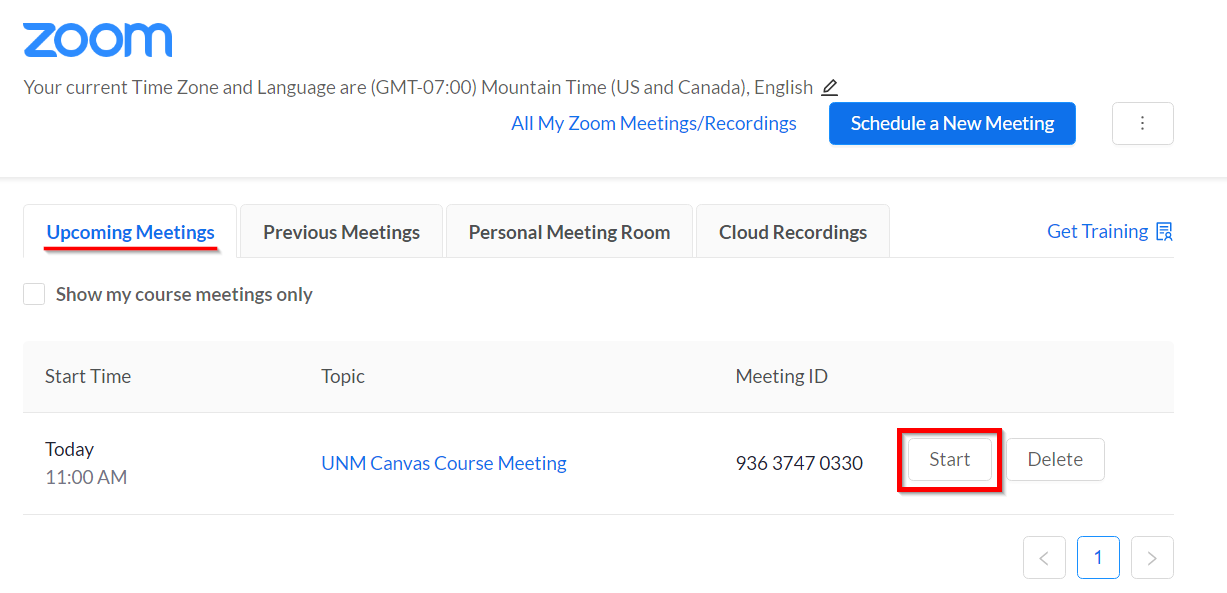 You may be prompted by your browser to Open Zoom Meetings.

 

4. Read and agree to the Zoom Notices and Terms of Use.
5. Select one of the Audio Conference Options (in most cases Join with Computer Audio).
Note: If you want someone else to start a meeting for you, when creating it, add an Alternative Host at the bottom of the meeting scheduling screen. Be sure anyone you are adding to this field has a Licensed UNM Zoom Account. For more information, see Troubleshooting & FAQ "Alternative Hosts Errors."

Do not see a meeting on the Upcoming Meetings tab?
To create one, click Schedule a New Meeting (top right). For step-by-step instructions, see Schedule a Zoom Meeting. 
Relevant Documentation (Instructors):
Zoom - How to Make the Zoom Meeting Tool Visible in a Canvas Course
Zoom - Scheduling Zoom Meetings in UNM Canvas
Zoom - Calendaring
Zoom - Edit or Delete a Zoom meeting
Zoom - Start a Zoom meeting from UNM Canvas
Zoom - Hosting a Zoom Meeting (meeting controls, polling,
breakout and waiting rooms)
Zoom - Recordings and UNM Canvas
Zoom - Manually Upload a recording from your local computer
Zoom - Troubleshooting & FAQ